April AB Drills Sampler Pack
Are you ready for Spring??? We certainly are. Sunshine, Tulips, Sunflowers, Easter Eggs and baby chics – the April AB Drills Sampler pack is all about YELLOW (and it's favorite cousin Orange). This month we introduce several new colors!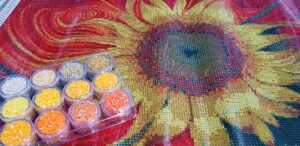 The April AB Drills Sampler Pack is guaranteed in stock for the month it premiers but after that, when they sell out they are gone.
Jars – Each color provides a minimum of 600 drills! Each sample set contains twelve jars with screw top lids and square bases for extra stability in a clear case. Colors are the same from the round to square drill sets.
Bags – A minimum of 2000 drills per color in our resealable holographic bags.
This month we introduce several new colors!
Sampler Pack Colors:
AB: 676, 712, 722, 725, 727, 729, 740, 742, 743, 970, 972 and 3046