Event Sets and pricing are a limited time offering just in time for the Event we are sponsoring.
The Great Escape 2023
$17.25 Value for $10
Created especially for the The Great Escape 2023 Event happening in August and September. This enhancement set was created for the diamond painting, "Fairy Town" from Rose Proffitt, that hosts Rebecca from Crafting & Crime Daily and Miki from Miki Sunshine Creates are using for this event but don't let it deter you if you haven't picked up this fantasy destination canvas – at this price how can you go wrong! Make sure to check out their YouTube channels for more information on the event. If you are interested in purchasing the canvas, here is a link.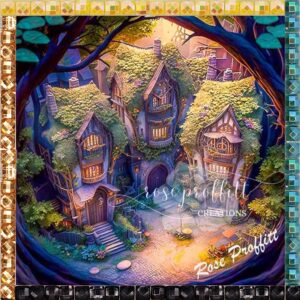 Includes:
3812 AB (For the leaves)
3822 AB (On the roofs)
310 Crystal (Random 1:2 – Standard:Crystal Mix in the Vignette Tree Trunks)
433 Rd / 435 Sq Crystal (Replace the Windows)
Available in a Round or Square Option
All 4 Colors for just $10
Full size bags containing 2000+ drills per color. Enjoy!